Pregnancy, Exercise and COVID-19
I am writing this blog post as I am 27 weeks pregnant, with my first baby. Currently we are in unprecedented times with COVID-19. I had always thought that if I was lucky enough to get pregnant, then I would have a great time exploring all the many things I chat to my clients about, such as pregnancy exercise classes (including yoga, Pilates and hydrotherapy), swimming and even indulging in the occasional pregnancy massage. However, COVID-19 has changed all of this at present.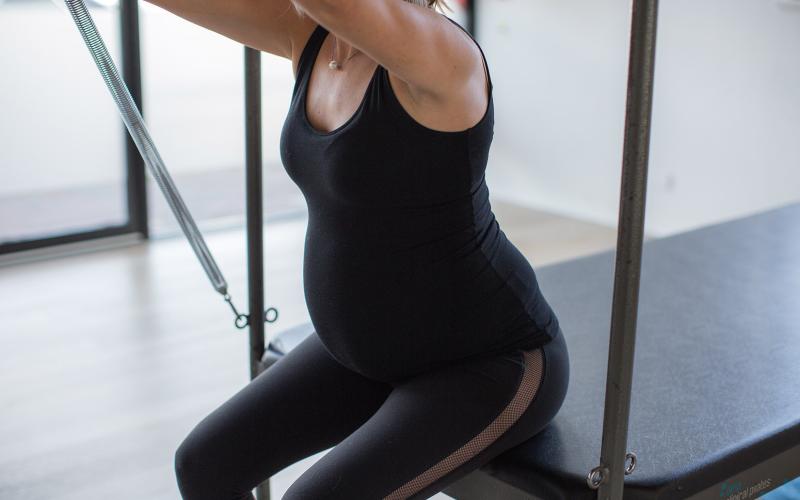 Prior to COVID-19 I was enjoying doing Flex FIT classes 2x week, along with regular walks. My body was feeling good. However once the classes stopped due to the pandemic, I started getting a lot of pelvic girdle pain (pain at the front and back of the pelvis, particularly with rolling over in bed and walking). This pelvic girdle pain reinforced my need to continue to exercise, even as we were socially isolating. As my body was changing shape and making room for our growing baby, I needed good muscle strength to support me.
What did I do? Well, we are so fortunate to still have many options in Australia. I found a second-hand stationary bike on Facebook Marketplace and set myself the goal for doing a cycle each morning (5x days' week). Slowly as the weeks have progressed, I am increasing how long I do this for. I started off with 5min and now am up to 20min. I enjoy listening to podcasts as I cycle to keep me entertained. This is a great form of cardiovascular fitness, it is also low impact, and comfortable for my pelvic girdle pain.
I have also started doing a home exercise routine, with a yoga mat, some dumbbell's and TheraBand's (colourful stretchy bands). I do this via video with my Mum who lives in Tassie; this has helped me stay motivated and is also a great chance to catch-up with my Mum. Slowly we have been increasing the repetitions and resistance of exercises, as we build up muscle strength.

I also invested in some SRC Pregnancy Shorts, which at times have been so helpful. I ordered the 'over the bump' ones, which on the warmer days were too warm, however, now that it is starting to cool down, they have been a lifesaver for my pelvic pain. I have even slept in them on my more 'painful' days. One of the other things I have loved is a spiky massage ball, which I can use for self-massage, particularly whenever I am feeling a bit tight and sore.
If you are interested in a home exercise program to help you feel comfortable during pregnancy, don't hesitate to contact Flex for a face-to-face, or Telehealth, appointment to set you up with an appropriate program. Continuing to exercise is important during pregnancy, both for the body and the mind, however, getting some professional advice can be very beneficial.