Mums and Bumps - Exercise during the pre and post partum period
Whether it be your first, second, or third pregnancy each journey differs from the other, with the body experiencing significant change throughout this time. Changes in your body, energy levels, and lifestyle lead many women to question their prior exercise routine, or many do not even know where to start! Returning to exercise post-partum can too be daunting for Mum's adjusting to their body and new lifestyle – with many women often not knowing where to begin, or returning to high level or exercise too quickly, without allowing the TLC their body deserves.

Luckily our Flex team and Mums and Bumps classes are here to support you along the way. Our Mums and Bumps classes provide the benefits of Physical Activity and are baby and toddler friendly – leaving organising babysitting out of the equation for busy Mums!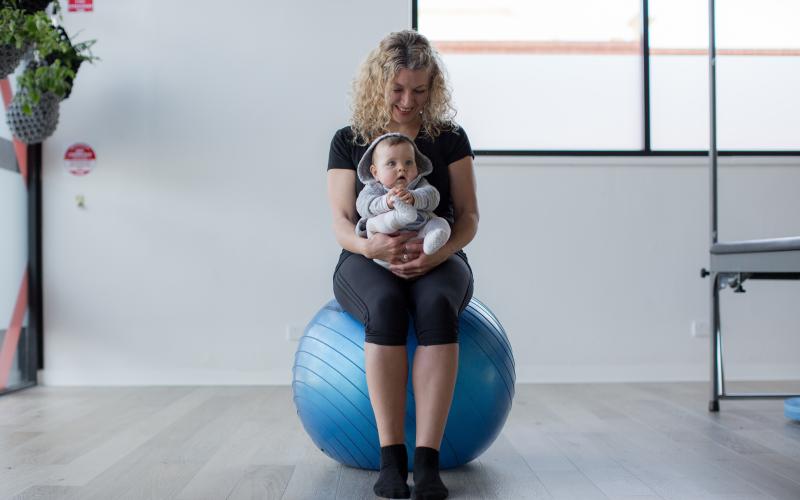 PRE-NATAL

Guidelines from The Royal Australian and New Zealand College of Gynaecologists recommend pregnant women continue with 150 minutes of moderate physical activity each week throughout their pregnancy including both cardio and resistance exercise. Exceptions may apply, so it is always important discussing this with the appropriate health care provider.
Benefits of Physical Activity in pregnancy include:
Maintaining good physical fitness
Management and prevention of Pelvic Girdle Pain
Pelvic floor strength and control (through both the pre and post-partum period)
Reduce risk and aid management of obstetric conditions including Gestational Diabetes and Pre-eclampsia
Prepare your body for birth and the post-natal period
POST-NATAL
An individualised and graded return to exercise in the post-partum period is important to build strength and fitness to enable you to look after bubs and return to work, sports and hobbies. It will also help reduce the risk of musculoskeletal pain or injury, and to help prevent Pelvic Floor related concerns including stress urinary continence and pelvic organ prolapse.
Other benefits of physical activity post-partum period include:
Restoration of abdominal strength and control. Including management of Diastasis Recti.
Upper body strength and mobility to assist with caring for bubs.
Advice and guidance regarding to sport and running safely.
Boosts mood and body confidence.
PELVIC FLOOR
Your pelvic floor muscles deserve attention like no other – for an assessment and advice regarding pelvic floor exercise or concerns, book in to see one of our Pelvic Floor Physiotherapists. Pelvic floor exercises or modifications can be easily managed in our Mums and Bumps exercise classes
If you're interested in joining our Mums and Bumps classes or have any questions about your pre or post-natal journey, book in for your individualised assessment today.
Book your appointment online here